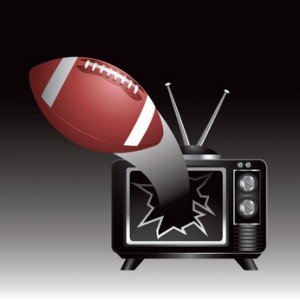 Every year government officials come up with ominous predictions about the supposed increase in sex trafficking that goes on leading up to and during the Super Bowl. But is there really any correlation between sex trafficking and the Super Bowl? The only connection seems to be in the minds of certain officials. A couple years ago Texas Attorney General Greg Abbott said the Super Bowl "is commonly known as the single largest human trafficking incident in the United States." Commonly known to whom, though?
Predictably the NFL's spokespeople refute this claim as nothing more than an urban legend – and the numbers seem to indicate that that is exactly what it is. For instance, when the Super Bowl was in Dallas in 2011, there were no arrests for sex trafficking made around Super Bowl time. The following year, only two such arrests were made in Indianapolis. And the year after that, in New Orleans, again there were only two such arrests made. So in terms of numbers, there certainly doesn't seem to be much correlation.
In fact, even the esteemed anti-sex trafficking group, the Global Alliance Against Trafficking in Women found the claims of a connection between sex trafficking and the Super Bowl to be without merit. In a 2011 report, they wrote, "This simplistic equation relies on problematic assumptions about masculinity, business practices within the sex industry, sex workers' capacity to take action, and the root causes of trafficking. After studying reports from the Super Bowl as well as from the Olympics and the World Cup, GAATW's report concluded that there was no correlation between an increase in sex trafficking and the Super Bowl – or any other major sporting event, for that matter.
So what is behind these allegations about human trafficking at the Super Bowl? It seems like there's a good chance it's really just a ruse to crack down on escorts and sex workers. Although it is difficult to study whether there is a correlation between an increase in prostitution and the Super Bowl, one thing that some people have observed is that there is a distinct increase in Craigslist and other online advertisements by escorts just before the Super Bowl in the region where the Super Bowl is being hosted in a given year. So there may be an increase in prostitution during the Super Bowl, but that doesn't mean that there is an increase in sex trafficking during the Super Bowl. After all, if there's an increase in advertisements for day labor jobs during the Super Bowl, you wouldn't assume that was an indication that there was an increase in human slavery.
Given the evidence, it seems like the claims about a correlation between sex trafficking and the Super Bowl are just a ruse to trick human rights activists into supporting the increased police presence that results in the arrest of more escorts and sex workers. This tale about an increase in sex trafficking during the Super Bowl is a dirty ploy because it is used to distract helpful human rights activists from real instances of human rights violations by passing off regular sex work as sex trafficking. This tall tale about the Super Bowl being a sex trafficking magnet is complete baloney. It's an excuse to turn the nation's attention to arresting a few extra sex workers – and focusing the public's attention on such a trivial issue is shameful at a time when the nation has so many more serious issues on which it should be focusing.