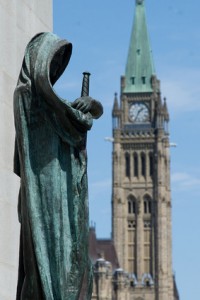 In a unanimous 9-0 decision announced on December 20, 2013, the Canadian Supreme Court struck down prostitution laws. Technically prostitution was always legal in Canada, but in reality a set of prostitution-related laws made it difficult to practice sex work safely without being arrested.
Specifically, there were three prostitution-related laws that this case – brought to the Supreme Court by three former sex workers – targeted.
First, before this decision, it had been illegal for anyone to earn money off the avails of prostitution. In plain terms, that meant that no bodyguards, drivers, or legitimate agents or managers could earn money off of sex work. Although that law was intended to target pimps, it was broad enough that it also targeted those who could help keep sex workers safe.
Second, brothels had been illegal. Brothels would have offered a safer working environment for those in the sex trade, but because they were illegal, workers ended up seeing clients in their homes or working on the street.
Third, communication about exchanging sex for money in public had been illegal. Again, that encouraged sex workers to bring complete strangers into their homes without any back-up or personal safety measures.
The court's decision struck down all three of these laws in their December decision. In her decision statement, Chief Justice Beverley McLachlin wrote, "These appeals and the cross-appeal are not about whether prostitution should be legal or not. They are about whether the laws Parliament has enacted on how prostitution may be carried out pass constitutional muster. I conclude that they do not." Elsewhere in her decision, McLachlin wrote some things that were extremely sympathetic to the realities faced by sex workers in Canada. She acknowledged that sex worker safety needs to be a higher concern for the law and said, "Parliament has the power to regulate against nuisances, but not at the cost of the health, safety and lives of prostitutes."
The way in which these laws had impacted the safety of sex workers had become a much more pressing issue in the aftermath of serial killer Robert Pickton. Pickton, a British Columbian pig farmer, murdered somewhere between 6 and 49 women – mostly sex workers – between 1983 and 2002. At the height of the Pickton killings, one British Columbian brothel that had functioned as a safe house for the area's sex workers was closed due to criminal charges. The Pickton killings – and the way in which the elimination of these three laws could have saved lives back then – were on the forefront of everyone's mind when finally the Canadian Supreme Court struck down prostitution laws.
The result of this wonderful high court decision is that, until things get ironed out, certain Canadian police departments aren't prosecuting any prostitution-relation charges. Ultimately, though, Canadian police might not ever be enforcing prostitution-related laws again; if Parliament doesn't redraft the law in the next year, then all three of those related activities will become entirely legal. That means that operating a brothel, running an escort agency, and openly advertising for sexual services are activities that will all be legal. Beware, though, that there is also the unfortunate possibility that Parliament could choose to enact even stricter laws – but let's just keep our fingers crossed that that doesn't happen.